Last month, the best running app got even better!
With the release of version 2, MyRunningTracker app saw a complete redesign for both the macOS and watchOS versions.
macOS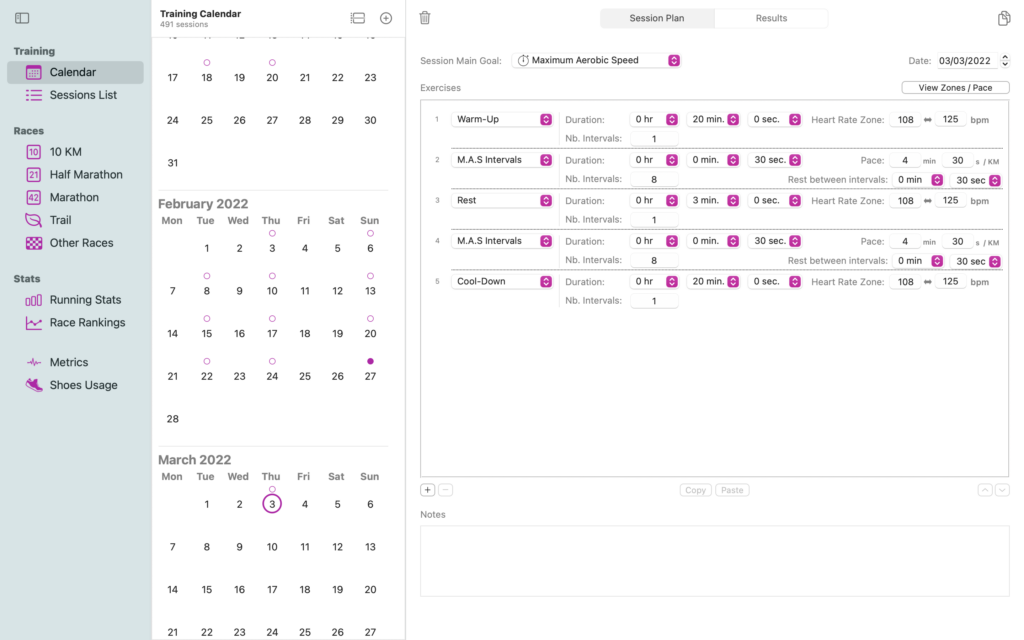 The macOS app gains a more straightforward layout: A sidebar, a master view and a detail view.
The sidebar presents the following menu items :
Calendar: presents an indefinite scrolling calendar, a dot is present for each day with a planned training session (full dot for when the session is completed)
Sessions List: presents a list of training sessions, organised by months.
Races (10K, Half-Marathon, etc.): presents a list of planned and completed races by distance.
Stats: adds a new view, the "Race Rankings" stats, which presents a chart of the user rankings throughout each race he participated in.
Metrics: for the user maximum heart rate and maximum aerobic speed. Now with tips on how to calculate both metrics.
Shoes usage: presents a list of added shoes for usage tracking.
watchOS
The watchOS app got completely rewritten using SwiftUI technology, laying the foundation for better integration of native APIs and easier iterative updates and maintenance.
The live running tracker view presents only relevant information depending on the current interval (for example for heart rate based intervals, the current heart rate, and its potential deviation from defined heart rate zone, are the major informations on the screen).
Also new : voice announcements! Now each interval change can be announced via audio for a seamless running experience (voice announcements can be deactivated if chooses by the user).
And this is just the beginning
MyRunningTracker 2 update brings a design that's here to stay. It will be the backbone for new, exciting features. Stay tuned!